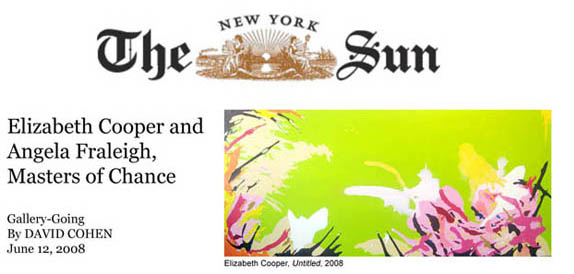 Sometimes, artists look as if they are having such fun with paint that the sheer hedonism of their facture can be infectious. Such is the case with the painterly splurges, splatterings, and pourings seen in two solo shows by two exuberant artists, who both happen to be women in their 30s. Elizabeth Cooper's eighth solo show in as many years is her second at Thrust Projects on the Lower East Side, while Angela Fraleigh, a Texan and 2003 Yale graduate, is having her New York debut at the P.P.O.W. Gallery in Chelsea. Each could be described as a masterful juggler of chance effects, conveying sensations of speed in processes that must, in fact, have entailed considerable powers of intuition and control based on informed expectations about the chemical reactions of paint.
Both, equally, are jugglers not just of materials but of styles, too. As much as their respective bodies of work collide textures, colors, and viscosities, they are, so to speak, linguistic collages as well, bringing together languages as liable to offset one another as oil and water.
Ms. Fraleigh more forcefully and literally pits different languages against one another by mixing abstraction and figuration. "After" (2007), for instance, affords a view of a face in profile, a resigned looking blond woman and, elsewhere in the composition, what are presumably her own fingers overlaid with mottled coagulations of golds and pinks in random though organic shapes determined by the flow of the paint.
The inclusion of figural fragments in what is primarily an abstract painting ought to reduce the figural elements to abstractions, but the psychological tendency to discern meaning in patterns is such that what happens is the other way around: The abstract splurges beg to be read figuratively. This happens more overtly in "Slight" (2007) in which a male face rests its open mouth in what could be the planting of a kiss on the forehead of a frowning, somewhat distressed woman. Here, tar-like splatterings of black paint wash against, and over, the figures. In places, the black melds with the woman's hair. Generally, there is a sense of the people drowning in oil.
Or else it is the painting, rather than the people in it, being assaulted with these washes of congealing liquid -- if, that is, the representational image is privileged over the abstract one in the viewer's hierarchy of values. The artist has undeniable formal skill as a traditional figure painter. The damage she inflicts with her equally artful overlays has the effect of isolating the pockets of realism, creating marvel and regret for the spoiled handiwork presumed to be underneath, and a sense of mystery. In a way, however, both the abstraction and the figuration act as spoilers, preventing each element alike from working on its own terms.
Ms. Cooper's painting is, on first impression, more pure than the binary opposition of Ms. Fraleigh's. But stylistically, Ms. Cooper's abstraction betrays an art historically-mixed pedigree that encourages feelings of cultural collision. Her drips, puddles, and generally hands-free agitations recall action painting of the 1950s, color field painting of the 1960s, and process art of the 1970s. There is also a strong hint of a Pop sensibility that in particular references Japanese anime comics in both her palette of sickly sweet nursery colors and the paint's exuberant bursts and spurts. In this last respect, her happy violence recalls the early work of Inka Essenhigh.
Ms. Cooper shows five untitled canvases in quite radically varying formats and compositions, although her palette and energy level are consistent. In three of these, what almost read as floral sprays are set against acid green grounds. Of the remaining two, which both deploy blue grounds, one is a drastic vertical at 8 inches wide and almost 7 feet high.
The technical ingenuity of this work is the way it stays clean and fresh looking despite a plethora of wild, seemingly random movements. (In this respect, as well as its look and color, Ms. Cooper's work recalls the painter Carolanna Parlato.) The process looks as if it would be guaranteed to generate murk and indeterminacy, whereas the crystalline colors retain their individuality. Her paint is a mix of oil and enamel, and she seems empowered to get the best of both mediums -- the lush elasticity of one and the industrial definitiveness of the other.
Fraleigh until July 3 (555 W. 25th St., between Tenth and Eleventh avenues, 212-647-1044), Cooper until June 29 (114 Bowery between Grand and Hester streets, 212-431-4802).