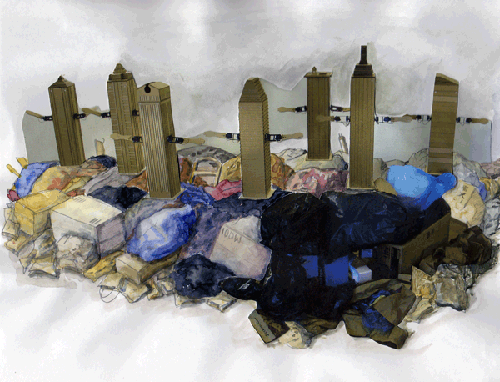 THRUST PROJECTS is pleased to announce the exhibition Malachi Farrell "Nothing Stops a New Yorker". This is the inaugural opening of THRUST PROJECTS and Malachi Farrell's first solo exhibition in New York.

"Power and the poetry of money, the increasingly narrower latitude available for political action, the role of the self-generating war, the iciness of society, the execution of nature – these are the themes to which Malachi Farrell draws our eye, as well as to a bunch of cables, hoses, aluminum sheets, contraptions, and electronic parts everywhere, to which movement and sound are added. The result is loud and wild. The machinery is visible; it is meant to be visible. The artist reveals to us what holds the world together at its core, but he does so very much from the perspective of a rapper version of a French artist-intellectual who has declared his support for the principle of political responsibility to society. What is commonly called an "installation" in an artistic context here turns into the dramatization of a politically engaged Gesamtkunstwerk (synthesis of the arts) with a tendency to become a world machine, an artistic firework that does not shy away from a symbolic and mechanical explanation of the world. In truth, it is no longer an exhibition. What we see is a theater for robots, machines, automated puppets, and everyday objects set in motion, driven by pneumatic compressors, hydraulics, motors, and dancing mechanics. "Can't you do anything domestic?" is not infrequently the reaction of collectors and curators, who like to instrumentalize artists as remote-control interior decorators or theory designers."

Nothing Domestic: Laughter and Horror by Martin Schick
Excerpt from the Foreward for the exhibition catalogue: "Malachi Farrell Manipulation"
Galerie Stadt Backnang, REVOLVER, Germany, 2002.

Malachi Farrell was born in Dublin, Ireland in 1970, raised in Paris, and lives and works in NY. Farrell's elaborate mechanized installations have been shown extensively, most recently in 2005 in Dionysiac at the Centre Georges Pompidou, Paris, (France); Moving Parts at the Kunsthaus Graz, Graz (Austria) & Jean Tinguely Museum, Basel (Switzerland).

Malachi Farrell's work can be seen this fall in the group exhibitions Shortcuts between Reality & Fiction : Video, Installations and painting from Le Fonds National d'Art Contemporain at the Bass Museum, Miami (Nov 4, 2005 - Jan 29, 2005) and The Last Generation at Apex Art, New York (Nov 30, 2005 - Jan 7, 2006), and La collection en 3 temps et 4 actes at MAC Marseille, France (Oct 21, 2005 - Feb 12, 2006).

The installation "Nothing Stops a New Yorker" was created this year during Farrell's residency in NY at Triangle Arts Workshop, DUMBO, Brooklyn and funded through the Cultural Services of the French Embassy and AFAA (Association Française d'Action Artistique). For further information, please contact THRUST PROJECTS at 212 431 4802 or info@thrustprojects.com. Gallery Hours: Wednesday through Sunday from 12 - 6 pm.