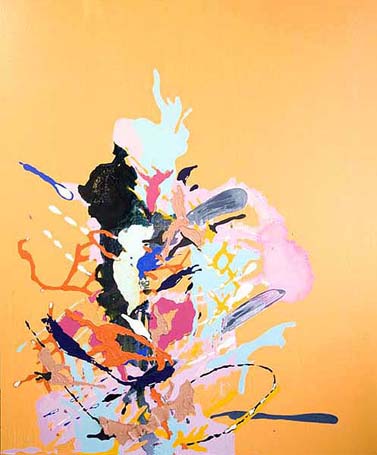 Elizabeth Cooper's Untitled
A compact, live-wire show now on view at Thrust Projects, on the Lower East Side, gathers one canvas apiece by eight painters, all women, who have developed a distinct approach to abstraction. The exhibition is curated by gallery regular Elizabeth Cooper . Contrary to the slightly hyperbolic press release, the work doesn't really "break through the boundaries of abstraction" so much as find an idiosyncratic place of its own within abstraction's extraordinarily diverse landscape. The best works in the show are tough, a bit nasty, and happen also to be the five largest.
Carrie Moyer contributes "Three Queens ," in which networks of sinuous white lines play off slithering pools in yellow and a range of grays and greens. With its repertoire of vaguely anatomical shapes, the painting marries flat, frontal space with the suggestion of volume and its accompanying sculptural solidity. The addition of glitter only adds to the work's emotional resonance by contaminating its sleek, refined contours with a cheap and cheesy vernacular. Two totemic presences loom against a cool gray ground; is the third queen the space between?
Anatomical references appear also in Joyce Kim's achromatic painting, "The Samurai Lesson." Collaged shards of silver plastic suggest stick figures scampering across the dense gray ground, as if pursued by the thundering herd of choppy brushstrokes that dominates the frame. Ms. Kim's ultracasual approach to craft is slightly startling, particularly in contrast to Ms. Moyer's meticulousness.
Lisa Hamilton's "Butterknife" is built like a linebacker. Brawny, interlocking shapes are packed around a central vertical axis that is sensed rather than seen. The painting's otherwise wintry palette gets a boost from glazes of alizarin and earth green, and the pat of pale yellow at its core.
On the wall opposite, Wendy White checks in with "Block from Smack," in which the artist indulges her taste for compositional dissonance and extremes of surface. Based on a glowering chromatic triangulation of pink, green, and black, the painting marshals wispy spray paint, scruffy, diaphanous dry-brush effects, and a discordant impasto flourish. Ms. White is increasingly deft at integrating sculptural add-ons -- in this case, a pint-sized soccer ball -- so they feel crucial to the image.
Three smaller works by Jasmine Justice, Alisa Margolis , and Veronica Tyson-Strait fill out the show. Then there is Ms. Cooper's own canvas, "Untitled," a typically lively affair in which splotches and slatherings of cartoon color (plus a profound, anchoring green-black) whip themselves into a frenzy in an orange-yellow field. Here the artist devises a raucous cocktail of gestural abstraction, materials-oriented process art, and that quotidian, lowbrow pop visual culture that Claes Oldenburg once called "the blinking arts, lighting up the night."
Until February 17 (114 Bowery, between Hester and Grand streets, 212-431-4802).
Stephen Maine, "From Glitter To Grit", The New York Sun, Gallery-Going, ARTS+,
January 24, 2008, pg. 20.